About 20 miles off the highway, down a few windy roads, turn left into the gravel driveway that is partially hidden by a beautiful, mature grove of trees. As you round the corner, a big barn comes into view, followed by a meticulously maintained, charming country home, with a welcoming front porch. As I attempt to drive up to the house, a flock of sheep slowly meander across my path. I count about a baker's dozen.
Scanning the property, I see a few other working barns, along with an outdoor riding arena - and here comes Hans van der Aa, the very tall owner of the sheep, and also President of SupportPro, Duravant's service company.
"You found the place!" he says, as he hops out of the off-road vehicle and adjusts his glasses, muddy farm boots hitting the ground.
"I can't wait to see the baby mini donkey!" I exclaim as Hans launches into a tour of the property.
Barn with flock of sheep
Hans van der Aa joined Duravant a little over a year ago, via a circuitous route from the Netherlands, Singapore, Hong Kong, North Carolina, and most recently Atlanta, Georgia. His professional experience ranges from key account management to engineering to mechatronics to aftermarket and support. He has traveled most of his professional life but is currently enjoying the extended family time the current shelter-in-place mandates have afforded him.
Hans and his wife Katherine, a life coach and therapist, purchased this sprawling property when Hans accepted the position with SupportPro and moved his family, horses, sheep, mini donkeys, and goats from Atlanta, Georgia where Hans was the Director of Service Operations for ASM Assembly Systems.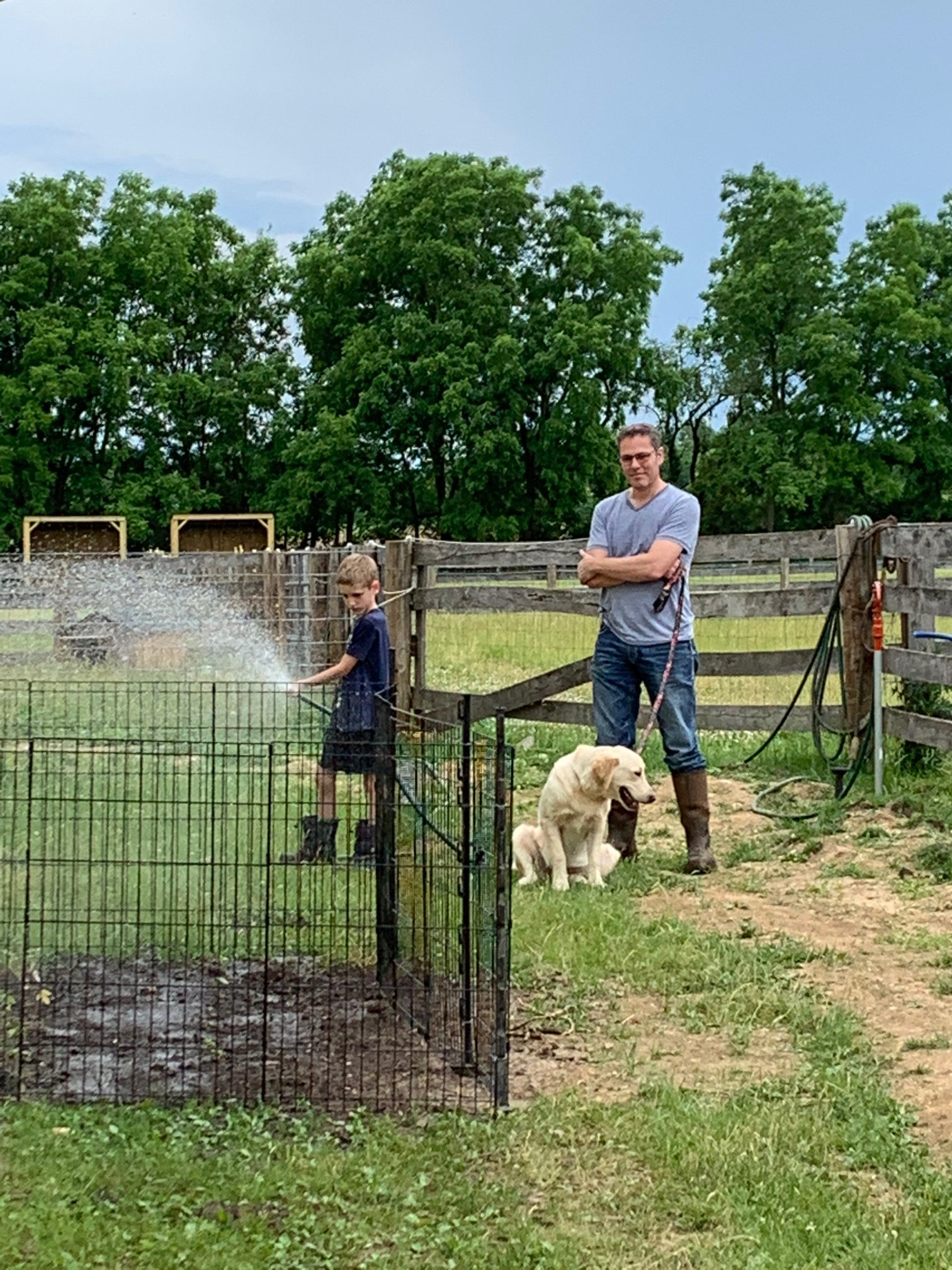 Holden's veggie garden
We enjoy working with our customers as their partner, leveraging our global footprint, and with a local feel to the service we provide.
Hans was drawn to Duravant primarily because of what we were building with SupportPro, and the culture and values that unite the Duravant Family of operating companies.
"Duravant is unique in how it supports excellence across the board at the level of the smaller groups as well as the overall company. There is a modern culture of efficiency, of building up one another, and of unparalleled quality. In some organizations bringing different groups of people together under a single service company is much like herding sheep," as he gestures to Violet and her lambs Tennessee and Tucker munching grass nearby. "But through SupportPro, we are building a high-performance unified organization, through which the customers of all of our operating companies benefit."
Hans' extensive experience in aftermarket and service support, as well as his time spent in sales, gives him a unique perspective, as well as the level of experience needed to build and guide a young team.
"My previous experiences have given me the insight and ability to build and grow this business, set the direction of our company; demonstrating how things can be done, not the way they must be done." Hans says.
Duravant's parts and service team spans the globe, supporting our 11 operating companies in food processing, packaging and material handling, as well as other OEMs that touch Duravant equipment. SupportPro provides the onsite technical support, as well as 24/7 remote support, which, in these unprecedented times, is a requirement.
"SupportPro exists because Duravant wants to take the best care of our customers - we have made a huge investment in that. We want to be the best partner for them to work with." Hans says emphatically.
"I've worked with customers all around the world, in many different cultures, for over 25 years. For me, the primary goal is creating trusting relationships with our customers, and to ensure satisfaction and confidence in our machines and support. With SupportPro, we have built the infrastructure to do this better than anyone else."
Hans illustrates this point by talking about an ecommerce customer with global distribution. They purchase Duravant equipment to ensure their packages get where they need to be on time - or sooner. The SupportPro team are the ones behind the scenes, ensuring the equipment, in every distribution center, is operating at peak performance. "Our customer was using multiple different service providers for their service, but they experienced inconsistencies with quality, missed scheduled dates, insufficient reporting, and even violations of safety protocols. Having to manage all these individual providers was quite a challenge for them. They have recognized what sets SupportPro apart is our unique value proposition: our technical expertise, the ability to meet very challenging timelines while maintaining our commitment to safety. And of course, by effectively using our national coverage we can be competitive. We enjoy working with our customers as their partner, leveraging our global footprint, and with a local feel to the service we provide."
We welcome the opportunity to engage with our customers and show them how SupportPro's level of service is second to none.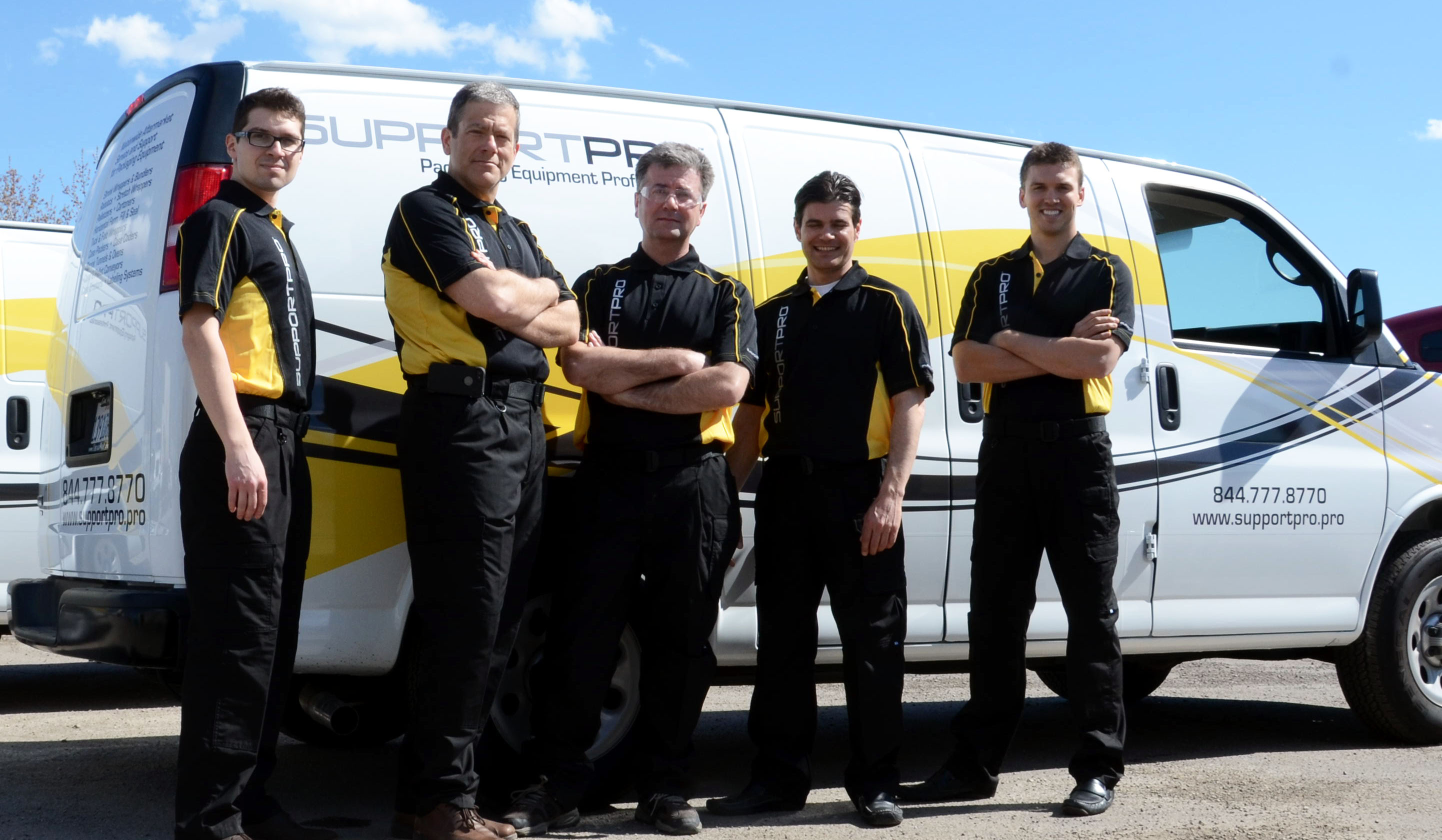 SupportPro team
Hans speaks 4 languages fluently - "Well, three and a half really," Hans says. "English, Dutch, German and any kind of technical documentation written in French."
He hails from Bergharen, a small village in the Netherlands. The name translates to "mountain of hair," which I find extremely amusing. One of the couple's sons is following in his footsteps to study engineering at the University of Twente in Enschede, the Netherlands, Hans' alma mater. Their other 18-year-old son is studying engineering at Michigan State University. Hans and his wife Katherine met in Hong Kong and later moved to North Carolina and then Georgia before deciding to "embrace life" and settle down on a farm. This they did primarily for Katherine's great love of animals, but also for the balance it affords their six children. Hans says he enjoys putting in a long day at the office, and then getting out on the farm and doing the physical labor. "It's a great stress reliever."
As the last sheep is herded back into the barn for feeding time, the parallels between maintaining a working farm and managing a growing service organization come into focus: you need a vision, a strong leader, systems in place for your team and the drive to work together toward that shared vision.
As Hans glances around at the grand scope of the farm, he says "There are always going to be more projects to take on, but that's the fun of it; the adventure, the challenge, it's what I love to do!"